London Chimney Services & Fireplace Shoppe was founded in 1977 by Mark Rizzo as a one-truck, two-employee business that performed basic chimney sweeping services and minor masonry repairs for San Francisco, Marin County, and the Greater Bay Area. During the 1980's we expanded to four technicians and began offering installations of fireplace components and gas logs for local fireplace shops. By the 1990's we were up to six trucks and began to perform large-scale masonry repair and restorations. By 2001 we were a full-service, CSIA-certified chimney company and fireplace shop. Fast forward to today and we are one of the area's largest chimney service and fireplace dealers and continue to offer the knowledge and professionalism that make London Chimney Services & Fireplace Shoppe stand out.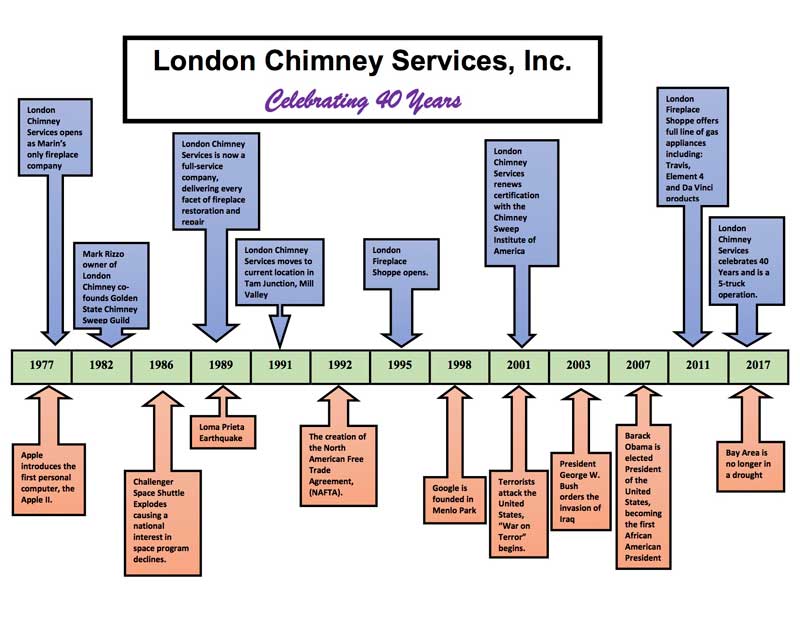 What Sets London Chimney Services & Fireplace Shoppe Apart
At London Chimney Services & Fireplace Shoppe, we focus on providing our customers the highest quality customer service through our knowledgeable and professional staff. We put the utmost importance into training and certification so that we can be sure you're getting the best service possible. No matter whether you're looking for a new fireplace or stove or need regular chimney inspection and sweeping services, you will receive the same high caliber service that makes us one of the area's finest fireplace shop and chimney service companies. We are certified and affiliated with:
We Are Committed To Protecting The Environment
At London Chimney Services & Fireplace Shoppe, we know how important it is to protect the environment from the potential byproducts of fireplaces and stoves, particularly wood-burning appliances. Rest assured, all of our wood-burning products are EPA-approved so you can be sure that your unit meets all the current regulations. We'll even help upgrade you to a newer unit if yours is out of code. You don't have to sacrifice warmth and ambiance any longer — our eco-friendly appliances can keep you warm and relaxed, without the guilt!
We Offer A Full Range Of Chimney Services
We started out as a one-truck chimney service company with a focus on providing the best chimney services possible and, although we've grown, we still hold true to those ideals. Here are some of the chimney services we offer:
Come Visit Our Fireplace Showroom!
If you are looking for a new fireplace, insert, or stove, we can help! We carry a full range of captivating, clean-burning wood-burning, gas, electric, and pellet-fired products. Stop by our showroom and one of our certified, knowledgeable professionals will help you find the unit that is just right to fit your needs. We also carry tons of fireplace accessories!
Give Us A Call Today!
If you are in the San Francisco, Marin County, or Greater Bay Area and are in need of high-quality chimney services or a brand new fireplace, stove, or insert, give the certified professionals at London Chimney Services & Fireplace Shoppe a call today! Isn't it time you had the cozy, efficient, and eye-grabbing hearth you've been dreaming of?
We encourage you to schedule an appointment with London Chimney Services for your next chimney, fireplace, masonry or dryer vent service. Come home to a safer home!