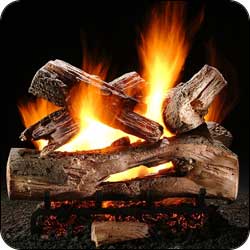 Are you wishing there was an easy way to convert your wood fireplace to gas or wishing your existing gas log set was more realistic and better performing? London Chimney can help! We carry the most realistic and efficient gas log sets on the market, from top brands like Hargrove, European Home, and Rasmussen. These log sets can give you the beautiful, quick, and clean-burning fire you're after without any major construction or expensive rebuilds.
Some Of Our Favorite Options:
Hargrove Mountain Timber Log Set
(shown right)
These vented gas logs are from the fresh-cut collection, featuring realistic logs and crisp detail. They come in a wide variety of sizes and include many options to fit your home's style and needs.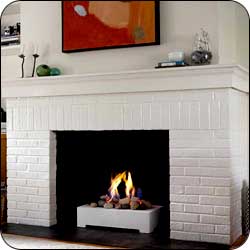 European Home Gas Stones
(shown right)
Prefer a more unique and contemporary look? Check out European Home Gas Stones! These beach stones can give your space the calm, clean feel you've been longing for!
Rasmussen Evening Crossfire
(shown right)
Love the rustic look of split logs? These sets look like the real deal and are sure to enhance any hearth!
Start shopping online or stop by our showroom!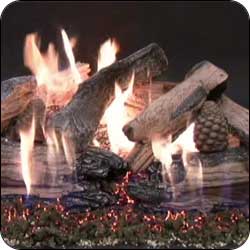 Enjoying your fireplace is even easier with today's gas fireplaces. Ask about all our gas products for more information.