When it comes to dryer maintenance, most people call it quits after emptying the lint trap — but if you're one of those people, you're losing money and setting yourself up for a potentially deadly catastrophe! Dryer vents need cleaning and servicing just like a chimney, and for many of the same reasons! Luckily, the certified, knowledgeable professionals at London Chimney Services can help!
A Broken Dryer vs. A Clogged Dryer Vent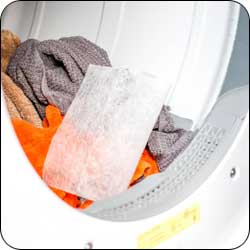 Have you noticed your dryer taking longer and longer to dry clothes? Is your dryer getting hotter than it used to? Are you noticing lint beginning to pile up behind your dryer? Many people think these are the signs of a dying dryer, but in reality, there may be nothing wrong with your dryer at all! These can all be symptoms of a clogged dryer vent.
While your lint trap catches a lot of lint, it doesn't catch it all. The lint that makes it past your lint trap has to travel through the ducts that navigate your home to vent to the outside — but more often than not, this lint gets deposited on the inside of your vents, just like creosote on a chimney. As this builds up, it begins to constrict the flow of air inside of the vents, which causes the dryer to run hotter and reduces its ability to dry. The team at London Chimney Services can help by thoroughly cleaning your vents, leaving your dryer working like it's fresh out of the box!
A Clogged Dryer Vent Is A Major Fire Hazard!
While an inefficient dryer can burn through your hard earned money, the larger problem with a clogged dryer vent is its potential to burn your house down! Dryer fires are one of the leading causes of house fires, but with proper vent cleaning and maintenance, you can significantly reduce your chances. Dryer lint is highly flammable (so flammable it is a popular fire starting material) — if left inside your dryer vents and constantly exposed to ever increasing heat, it becomes more and more dangerous. Luckily, the professionals at London Chimney Services have all the tools and experience to keep your dryer vents clean and your home as safe as possible!
Give Us A Call!
If you have noticed your dryer is taking longer and longer to dry, give us a call! An ounce of prevention is worth a pound of cure, and at London Chimney Services, we know just how to help! Give us a call today or click here to schedule your appointment!
We think you'll be glad to find out about us and our reliable chimney, fireplace and dryer vent services. Give London Chimney Services a call today.