Is your mantel taking away from your hearth's beauty and potential? Maybe it's time you upgraded! Adding a new mantel can significantly improve the look and enjoyment of your hearth and fireplace, and won't require you to spend massive amounts of money you don't have.
Whether you're looking to give your home décor a more contemporary touch or you prefer classic styles, our showroom has a mantel for every taste. We carry some of the finest mantel products from top brands like Fireplace XTRORDINAIR, J.C. Huffman, California Mantel, and Collinswood Designs.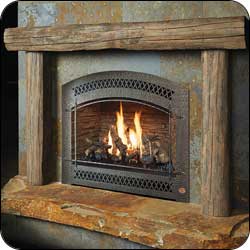 Fireplace XTRORDINAIR - Hand Hewn Timber Mantels
(shown right)
These are realistic reproductions of 150-year-old fir timber. Our artists individually hand-paint each mantel with incredible attention to detail. We challenge anybody to tell the difference between this reproduction and the authentic timber. Hand-Hewn Timber Legs are also available for the 6' mantel to achieve a three-sided Timber mantel installation.
Add a bold statement to your fireplace with one of our unique, hand-crafted Custom Shop Mantels that are designed and created by our in-house artists. These non-combustible mantels come in both 5' and 6' lengths, and can also be used as a hearth. Available for all fireplace and insert models.
J.C. Huffman "Virginia" Mantel
(shown right)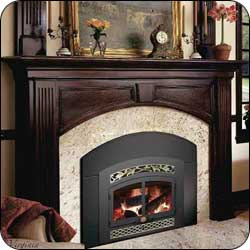 For homeowners looking for a simple, yet stunning and stately look, J.C. Huffman's "Virginia" mantel in cherry is a favorite. The mantel's deep, warm coloring and finely crafted design makes time spent by the fireside even more enjoyable and relaxing. Plant yourself in front of this timeless piece, take in the warmth, and forget about any time other than the present.
Collinswood Designs "Harrisburg" Mantel
(shown right)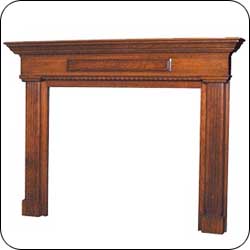 For a classic, bold frame surround mantel, there's the Collinswood Designs "Harrisburg" mantel. Clean lines and quality craftsmanship define this piece, which is available in a variety of hardwood finishes, including dark oak, dark cherry, and painted white. Whatever finish you choose, we're confident you'll love the look and feel this mantel brings to your hearth and home!
California Mantel & Fireplace "Mannix" Mantel
(shown right)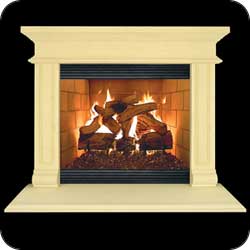 The precast "Mannix" mantel from the Southern Cross collection is another favorite among customers. Bringing clean-cut, elegant beauty and classic "old world" charm, the Mannix can transform your hearth from uninspiring to awe-inspiring.
Stop By For A Better Look!
Ready to upgrade your hearth and home? Come see these mantels for yourself – stop by our showroom today! For hours, directions, or other questions, give our showroom a ring. We look forward to helping you achieve the look and feel you've been dreaming of for your hearth!
Our product selection includes hearth accessories like grates, wood holders, glass doors and more. Come by our showroom and see for yourself.