If you live in the Greater San Francisco area and are looking for quality hearth products to enhance your indoor and outdoor living spaces, London Chimney has you covered. We carry a wide assortment of fireplaces, stoves, inserts, mantels, hearth accessories, and outdoor products to make shopping as easy and as enjoyable as possible for our customers.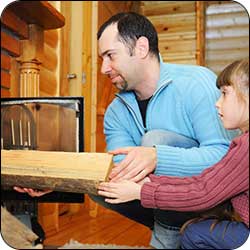 Our showroom features some of the best products from some of the most trusted manufacturers in the industry, so there's no need to try and weed out the poor-quality products. We've already done the hard work of determining which brands and appliances are worth investing in, so you can purchase your next appliance or accessory with confidence. Whether you're looking to perfect your indoor space or your outdoor paradise, we have what you need right here in our showroom.
Fireplaces, Inserts & Stoves
With over 38 years of experience installing, servicing, and cleaning hearth appliances, we've come to know which brands produce quality products and which ones don't. We know our customers want the best, and that's exactly what you'll find in our showroom. Some of the brands you'll find here include: Montigo, Fireplace Xtrordinair, Lopi, Hargrove, Regency, Element 4, Vermont Castings, Hearthstone, European Home, Rasmussen, and Astria.
Whether you're looking to stay with wood or switch to gas, we have the perfect fireplace, stove, insert, or gas log set to meet your needs.
Outdoor Products
Having a nice place to relax outdoors can make every season a bit more enjoyable. Is your outdoor living space everything you want and need it to be? Here at London Chimney, we carry outdoor fireplaces, firepits, and firepit/fountain combos designed to bring additional comfort and beauty to your property. Our showroom features both gas and wood-burning products from Regency, HPC Fire, and Astria. Learn more here!
Mantels
Looking to give your hearth a little makeover? Our mantels from J.C. Huffman, California Mantel, and Collinswood Designs are sure to please! Click here to learn more about some of the mantels we carry here in our showroom!
Accessories
We don't just have mantels and new appliances – our showroom is also filled with a wide assortment of finely crafted hearth appliances from Pilgrim, Stone Manufacturing, and Portland Willamette. From glass doors and screens to tool sets, andirons and ornamental pieces, we have everything you need to deck out your hearth. Click here to shop some of our accessories!
If you have any questions about our products or would like assistance, please feel free to give us a call or stop by our showroom! We look forward to helping you make your indoor and outdoor living spaces everything you want them to be!
London Chimney Services provides comprehensive chimney and fireplace services that will keep all those systems in tip-top shape year round.