Due to today's busy culture and the advancements made within the industry, gas appliances are becoming increasingly popular choices for both indoor and outdoor living spaces. With a gas appliance, adding warmth and ambiance to your space is easy, affordable, and requires little effort on your part.
Here at London Chimney, we carry a wide assortment of gas fireplaces, inserts, freestanding stoves, and log sets – whatever you're looking for, you'll find it here in our showroom!
Gas Fireplaces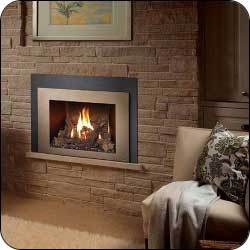 Need a whole new fireplace? Our gas fireplaces from FPX, Regency, and Element 4 are breathtaking and efficient. Whether you are shopping for a large statement fireplace with wide views and clean, modern lines or something small and traditional for supplemental zone heating, we're confident you'll love our selection. Start browsing our gas fireplaces!
Gas Inserts
Love your hearth but hate your inefficient and dingy fireplace? Gas inserts can transform the look, feel, and efficiency of your hearth at the fraction of the cost of a new fireplace. We carry gas inserts from Regency and Fireplace Xtrordinair and are confident you'll find the perfect insert to restore and revitalize your hearth in our showroom. Start shopping!
Gas Freestanding Stoves
Whether you're considering a freestanding gas stove because you don't have a chimney or you simply want to add heat and charm to another room in your home, you're sure to love the options we have here in our showroom. We carry Lopi, Vermont Castings, and Hearthstone, three of the top-rated stove brands in the industry. With these brands, you'll enjoy the classic appeal of a stove without all the work and maintenance. Check out our models here!
Gas Log Sets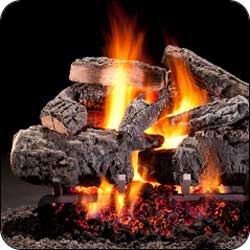 If your gas logs are looking worse every year, we can help. We carry a wide selection of top-of-the-line gas log sets, each designed and crafted to offer the best in both looks and function. These sets are sure to deliver the realistic flames you're after and give your hearth a fresh start. They can also be used to convert your wood-burning fireplace into a gas-burning unit. Click here to start shopping!
Our Showroom Staff Is Here To Help
If you'd like to know more about the gas appliances we carry in our showroom or need assistance while you shop, please feel free to call us. Our showroom staff is knowledgeable and courteous and can help you as you browse the many options available. Stop in and see all that we have to offer!
Maybe you would be happier with an EPA-approved wood-burning appliance; if so, check out the fireplaces, inserts and stoves in our showroom now.