Most people think that their chimney's biggest enemy when it comes to causing damage is fire. While a chimney fire is a devastating event, it doesn't hold a candle to your chimney's real foe: water. Whether in the form of humidity or precipitation, water can do a number on your masonry chimney and has to be contended with on a daily basis. Luckily, at London Chimney Services, we know just how to protect your chimney from this ever-present threat!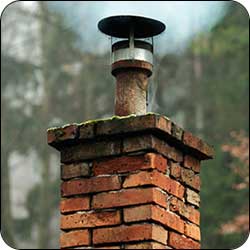 Keeping water out of your chimney is one of the most critical preventive measures you can take as a chimney owner. When water gets into the masonry structure of your chimney, it can cause several problems:
Mold Growth:
With water comes mold and mildew. When water gets into cracks in your masonry or into the interior of your chimney, it can settle and allow mold and mildew to grow. This can leave an unpleasant odor in your fireplace that will only get worse over time. Eventually, this smell will invade your home!
Masonry Damage:
Water erosion is a powerful force — it is what created the Grand Canyon! This same force can exact a toll on your brick and mortar. Over time, it can eat away at the masonry, causing bricks to crack and crumble and the mortar to fall off of the chimney. If left unchecked, this could lead to serious structural problems!
Ceiling Leaks:
Most people call a roofer when they find they have water coming from their ceiling, but oftentimes, the real problem is the chimney! If water is allowed to seep into the masonry of your chimney, it can find its way through your house until it reaches a point of exit, oftentimes, the ceiling!
How Do I Waterproof My Chimney?
Waterproofing a chimney is similar to sealing a driveway, but it has some key differences — the most important of which is the type of sealant used. If a sealant that does not allow for moisture to escape is applied to your masonry chimney, you could be trapping water inside of your chimney, which is counterproductive. Proper chimney sealant prevents water from getting into the masonry, while still allowing it to breathe so that moisture can escape. It is best to have this performed by a certified chimney sweep so that you can be sure that your chimney is properly waterproofed.
Call Us Today!
If you are having issues with water damage or are unsure if your chimney has been properly protected against water, give London Chimney Services a call today. Prefer to request an appointment online? Click here!
Don't burn a fire in your fireplace if you have a broken chimney damper. Let us make this chimney repair so your fireplace system is safe to use.