Wood has always been popular heating choice, but hasn't always been the most eco-friendly option. If you love the look and feel of a wood-burning fire, but have had enough of your old, inefficient, messy wood-burning fireplace, stove, or insert, we can help.
A lot of improvements have been made in wood-burning appliances over the years, and here at London Chimney, we're proud to offer our customers the best and most advanced products. All of the wood-burning appliances we carry here at London Chimney are EPA-approved to ensure a cleaner, greener burn and a more efficient use of fuel. Whether you want a fireplace, an insert, or a stove, you'll find the best of the best in our showroom.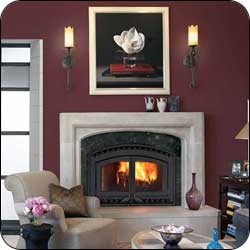 Wood-burning Fireplaces
Astria and FPX are two brands leading the way in cleaner, greener wood burning. In our showroom, you'll find some of their best-selling and most reliable wood-burning fireplaces, all designed to make your wood-burning experience more enjoyable and more environmentally friendly. If you're shopping for your next wood-burning fireplace, be sure to check out some of our beautiful and durable models here!
Wood-burning Inserts
If your hearth still has your heart but you're tired of all the waste associated with your fireplace, check out our wood-burning inserts! These EPA-approved appliances are designed to fit directly into your existing fireplace and put an end to waste and nasty emissions. Lopi, Hearthstone, and FPX bring all of the energy efficiency you long for, and allow you to get more from your existing fireplace. Start shopping today!
Wood-burning Stoves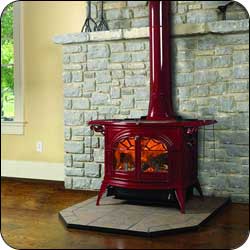 If you've been longing for a wood-burning stove but have brushed off the thought because of the work and emissions associated with these appliances, we've got good news for you. Here at London Chimney, we carry Lopi, Regency, and Hearthstone wood stoves, all of which are EPA-approved and designed to offer convenience and ease of use. Whether you want a traditional look or something more modern, we have a model that is sure to enhance your space. Click here to see some of the models we carry!
We're Here To Help You Find The Perfect Wood-burning Appliance
If you have any questions about the wood-burning appliances we offer or need assistance, please stop by our showroom or give us a call. We're here to help make the selection, installation, and service process easy and stress-free!
If you're ready to check out the convenience of gas appliances, ask about our fireplaces, inserts and stoves.