Is your outdoor space everything it can be? With London Chimney, outfitting your outdoor space is easy, fun, and affordable! We carry the most beautiful, durable, and reliable outdoor products from some of the best and most trusted names in the industry. Whether you're looking to create the perfect outdoor gathering place or a quiet and cozy outdoor retreat, we have what you need. From outdoor fireplaces to outdoor fire pits, you'll find it all here in our showroom!
Here Are Some Of Our Most Popular Outdoor Products:
Regency Outdoor Gas Fireplaces
Regency Horizon HZO-42 Outdoor Gas Fireplace
(shown right)
In our showroom, you'll find Regency's HZO42 Gas Fireplace, which offers 446 square inches of viewing space; clean, contemporary style; and quality craftsmanship. Whether you prefer driftwood-style logs, gorgeous stones, or crystals in your outdoor fireplace, Regency has an option that's sure to give you the look you're after.
Have friends showing up for an outdoor gathering? With a Regency HZO42, simply flip a switch and set the tone for a relaxing evening – it's as easy as that.
HPC Evolution 360 Water & Fire Outdoor Fire Pit Inserts
(shown right)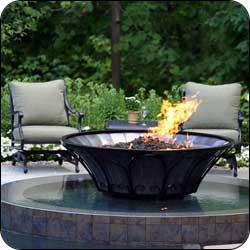 Have you been considering adding a fire pit and a fountain to your outdoor living space? Why not opt for a combo? The HPC Evolution 360 Water & Fire Outdoor Fire Pit Insert provides twice the relaxation and ambiance by bringing water and fire together. Simply install this combo fire pit/fountain wherever you'd like it, hook up the water, electric, and gas, and finish with stone, stucco, or whatever makes sense for your décor.
Need a little time to unwind? We're confident this beautiful fire pit and fountain will provide the peace and relaxation you've been longing for.
Astria Venetian Outdoor Fireplace
(shown right)
Looking for a clean, durable, yet elegant outdoor fireplace option that's easy to use? Here at London Chimney, we carry Astria's Vent-Free Venetian Outdoor Fireplace. These fireplace don't require a chimney system, but are designed to offer excellent heat, beauty, and long-lasting enjoyment. Choose from a wide selection of mosaic masonry and refractory liners and designs to help give you the custom look you're after.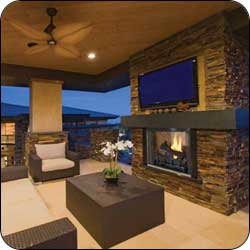 Whatever the season, your outdoor living space can benefit from a Venetian!
Stop In & See These Incredible Products Up Close
If you'd like to know more about the outdoor products we offer or take a close up look at some of our finest options, please stop by our showroom! For directions, hours, or assistance, give us a call!
A new mantel could be all it takes to give your fireplace a totally new, fresh look. Check out your choices in our product selection.