As a fireplace owner, you should know the importance of a properly functioning chimney liner. Not having a liner puts a lot of strain on the masonry structure of your chimney and can be a major fire hazard. Not only that, but you'll also suffer extreme efficiency problems and other use-related issues. While you have several options when it comes to relining your chimney, one of the best resurfacing products on the market is HeatShield®.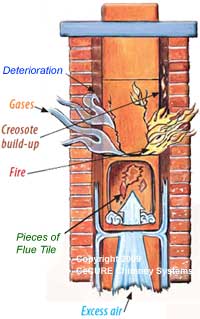 HeatShield® is a specially formulated "Cerfractory" cast-in-place chimney resurfacing and relining system. It seamlessly matches the shape of your chimney flue, covering all the contours and protecting your masonry from the heat and byproducts of a fire. It can even improve the structural integrity of your chimney! Whether you have minor repair needs or major repair needs, HeatShield® may be the answer for you!
HeatShield®'s 3 Repair Options
HeatShield® offers 3 different types of product installation techniques for different types of chimneys that face different types of problems. A certified chimney sweep like those at London Chimney Services will be able to determine which technique is appropriate for your chimney system.
HeatShield® Joint Repair:
HeatShield®'s Joint Repair system can repair damaged mortar joints. A certified chimney technician will use a special mix of the cerfractory lining material and apply it to damaged joints with a unique applicator and bladed tool. We'll thoroughly check our work and make sure your chimney is safe to use again.
HeatShield® Resurfacing System:
The HeatShield® Resurfacing System is used to repair cracked tile chimney liners. This type of restoration involves the application of the cerfractory product to the entirety of the inside of your flue using a special applicator. The mixture is applied approximately ¼ of an inch thick. After a thorough examination of our work, we'll certify that your chimney is ready to use.
HeatShield® CeCure Sleeve Relining System:
This chimney lining system is the most extensive and is used to repair chimneys that are suffering from structural damage. This process is very similar to the Resurfacing System, except that two coats are applied to the chimney, along with a stainless steel fiber to strengthen the integrity of the chimney. Additionally, a custom designed sleeve is installed in your chimney. Once we've completed our work and inspected the results, your chimney will be good as new, if not better.
Call Us Today!
If you think your chimney liner may be damaged or that your chimney may be suffering from structural problems, give London Chimney Services & Fireplace Shoppe a call today. You can also click here to request an appointment with one of our knowledgeable technicians online!
A Dalsin stainless steel liner is a great choice when it comes to adding or replacing a chimney liner. Find out if it's the best option for you when you give us a call or make an appointment.